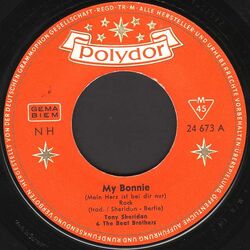 You might be looking for the My Bonnie (Single), the My Bonnie (EP), or the My Bonnie (Album).
"My Bonnie" is a traditional song by The Beatles. It has been released in various forms of media.
Recording/Influence
Edit
"My Bonnie" is traditional song, it was recorded with Tony Sheridan. On The Beatles' first visit to Hamburg, Germany in 1960, they met Tony Sheridan, and became friends with him. On their second visit, in 1961, The Beatles backed Sheridan in a series of stage performances. German Polydor agent Bert Kaempfert, saw them perform, he brought them in to put down some recordings, as Tony Sheridan with The Beat Brothers (The Beatles). It was recorded 22 June 1961.