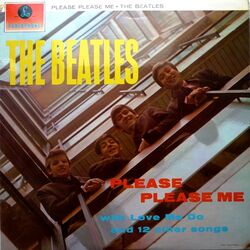 "Love Me Do" is a original song by The Beatles. It has been released in various forms of media.
Recording/Influence
Edit
"Love Me Do" is written by Paul McCartney in 1958-1959. John Lennon wrote the middle eight. The song was The Beatles' first single, backed by "P.S. I Love You" and released on 5 October 1962. "Love Me Do" was recorded by the Beatles on three different occasions with three different drummers:
The Beatles first recorded it on 6 June 1962 with Pete Best on drums, as part of their audition at EMI Studios. This version (previously thought to be lost) is available on Anthology 1.
By 4 September, Best had been replaced with Ringo Starr and on that day the Beatles with Starr recorded a version again at EMI Studios.
One week later, on 11 September, the Beatles returned to the same studio and they made a recording of "Love Me Do" with session drummer Andy White on drums, as Martin was unhappy with Starr's performance on 4 September and he was relegated to playing tambourine. As the tambourine was not included on the 4 September recording, this is the easiest way to distinguish between the Starr and White recordings.